Family Dentistry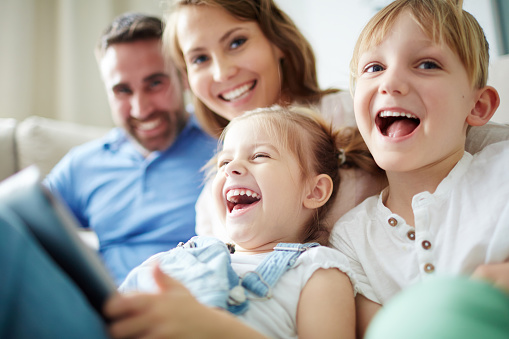 Our dentist office emphasizes individualized care in a low-stress environment that makes visits as comfortable as possible. Whether it's preventative exams, restorations, orthodontics, or cosmetic work, everyone in your family is provided the gentle and comprehensive treatment they deserve.
Dentistry for Kids
At Kenneth S. Gluski, D.D.S, Family Dentistry and Orthodontics, dentistry for kids is more than bright, healthy smiles; it's also about making the trip to the dentist a calm, pleasant experience so there's no fear of 'next time'. We take pride in seeing our patients grow into their adult teeth, so we're committed to earning the trust of everyone who visits our practice—both children and parents. That's why we take extra time to build rapport and earn confidence; it makes the experience easier for everyone. As a part of our care, we use pleasant, simple explanations to answer your child's questions and calm any anxieties. Of course, we're also happy to answer any concerns or questions you might have as a parent.

Dental Crowns
Crowns are used to restore teeth severely damaged by fracture or decay. After the tooth surface is cleaned and prepared, the crown is placed to cover the remainder of the tooth. The crown strengthens the tooth structure and helps prevent future decay. Crowns also improve the tooth's look, shape and alignment. Crowns are used to:
| | |
| --- | --- |
| • | Restore a fractured tooth |
| • | Restore a tooth severely damaged by decay |
| • | Protect a tooth from fracture |
| • | Cover a discolored or unattractive tooth |
| • | Cover a dental implant |
| • | Anchor a bridge |
| • | Restore a tooth with a root canal |
Dental Bridge
Bridges are used to replace a missing tooth in both a cosmetic and functional fashion. A bridge structure is one or more artificial teeth anchored in place by natural teeth, crowns or implants, on each side of the bridge. Using a bridge to fill the gap from missing teeth helps restore proper bite. It also prevents teeth from shifting to fill the gap (which may lead to additional bite and jaw joint issues). Bridges can be constructed from gold, porcelain and metal, or ceramic. Ceramic bridge color is made to match your natural tooth color. Material choice will depend on structural requirements, wear, and aesthetics. Bridges are used to:
| | |
| --- | --- |
| • | Replace missing teeth |
| • | Prevent teeth from shifting |
| • | Correct bite issues due to missing teeth |
| • | Help prevent jaw joint problems from altered bite |
| • | Improve appearance (cosmetic reasons) |
Fillings
Fillings are used to restore tooth damage caused by tooth decay. After removing the decay and cleaning the area, Dr. Gluski will add filling material. Fillings are made from traditional amalgam (silver-colored) or composite (tooth-colored) material. Composite fillings, unlike traditional fillings, are more aesthetically pleasing and bond directly to the tooth surface.

Root Canal
A root canal becomes needed when tooth decay is so deep that it reaches the tooth pulp. Once the pulp is infected, it cannot heal on its own. Sometimes tooth trauma, such as a fracture, can lead to the need for a root canal as well. In addition to being painful, untreated infections can reach the root tip and compromise the entire immune system. Symptoms of pulp infections may be:
| | |
| --- | --- |
| • | Sensitivity to hot/cold |
| • | Sensitivity to sweets |
| • | Pain, especially when biting |
| • | Swelling |
| • | Bad taste in the mouth |
A root canal procedure includes cleaning out the infected pulp, disinfecting the canals and filling the void with a rubber like substance. A crown is recommended after a root canal to restore the tooth shape and to strengthen the tooth structure.

Tooth Extractions
A tooth extraction is the procedure done to remove a tooth that is damaged beyond repair from its socket in the jawbone. Extractions are also done to remove wisdom teeth that may be impacted or create future problems. Many extractions can be performed in our Galveston office; however, more complicated procedures may be referred to one of our trusted oral surgeons.

Night and Mouth Guard
Protect your teeth from the effects of grinding and clenching while you sleep with a custom-fit night guard. We also customize mouth guards for sports players.